2022-2023 Fees and Schedule
This exciting program is designed to help skaters transition smoothly from larger group lessons to working in small groups or working individually. It will give your child an introduction into all aspects of the sport of figure skating, therefore Figure skates are required.
The disciplines of skating are much more difficult at this level & progress is generally a little slower than at the Canskate level. Jr Academy is challenging & therefore may be a bit overwhelming at first, but most skates love it once they get used to the routine.
There are no lessons included with the registration fees. Skaters will require instruction. Lessons are ESSENTIAL. In order to keep costs down, the coaches have arranged to provide group lessons for your skater. Group lessons fees are prepaid for the entire season and paid directly to the coaches This is over and above the cost of the registration fees listed below. Contact Brenda Charity @ 250-479-1094 for prices & payment methods.
You may also request private lessons if you wish. Contact one of the coaches for details on their private lesson fees.
10% discount for immediate family members is based on the lowest registration amount but not including operational fee, or Skate Canada fee.
Registration fees may be paid in Full with Cheque, etransfer, Credit Card (VISA, MasterCard, American Express) Registration may also be paid with 3 monthly instalments. If paying with a credit card remaining instalments will automatically be put through around the 1st of each month.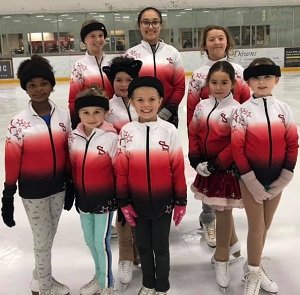 ---
Sep 13, 2022 - Mar 20, 2023
Must have completed Stage 5 Canskate or have been invited by a professional coach to join Juniors.
Wednesday:
3:30-3:45 Skills/Dance
3:45-4:35 Freeskate
4:35-4:45 Stroking
Saturday:
1:30-2:15 Off Ice
2:40-3:35 Freeskate (On Ice)
3:35-3:45 Stroking
The ice fees are pro-rotated if you register part way through the year, you will see the current fees reflected when you go to register.
Please add the following to your total registration fee (not pro-rated):
Operational fee $30
Skate Canada Fee includes insurance $45
REGISTER FOR THE 2022/2023 SEASON