2023-2024 Program Requirements
Open to skaters who have completed their Star 4 Freeskate Test. The qualifications are subject to the discretion of the Coaches. Skaters must purchase the dance session unless they have completed their Gold dance tests.
We offer several registration options & payment plans
Pay the full fee with credit card (VISA, MasterCard, or American Express).
Pay in 3 instalments. Please note that after your initial payment your remaining instalments will automatically go onto your credit card around the 1st of the remaining months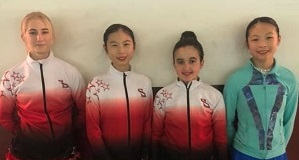 ---
Sep 12, 2023 - Mar 15, 2024
Pearkes Arena unless otherwise specified
The ice fees are pro-rotated if you register part way through the year, you will see the current fees reflected when you go to register.


Mondays Save on Foods - Senior
5:10-5:40-Sr Dance
5:40-6:30- Sr Free skate
Tuesdays Pearkes - Senior
5:45-6:35- Sr Free skate
6:35-6:45- Sr Stroking
Wednesday Save On Foods - Senior
5:30-6:15 PM Free skate (Int/Sr)
Fridays Pearkes - Senior
3:30-4:15 – Skills (Sr)
4:15-5:15- Free skate (Sr)
5:15-5:45 – Dance (Sr)
Saturday Pearkes
12:40-1:25- Free skate (Senior)
Saturday Dryland Classes
11:00-11:45- Senior